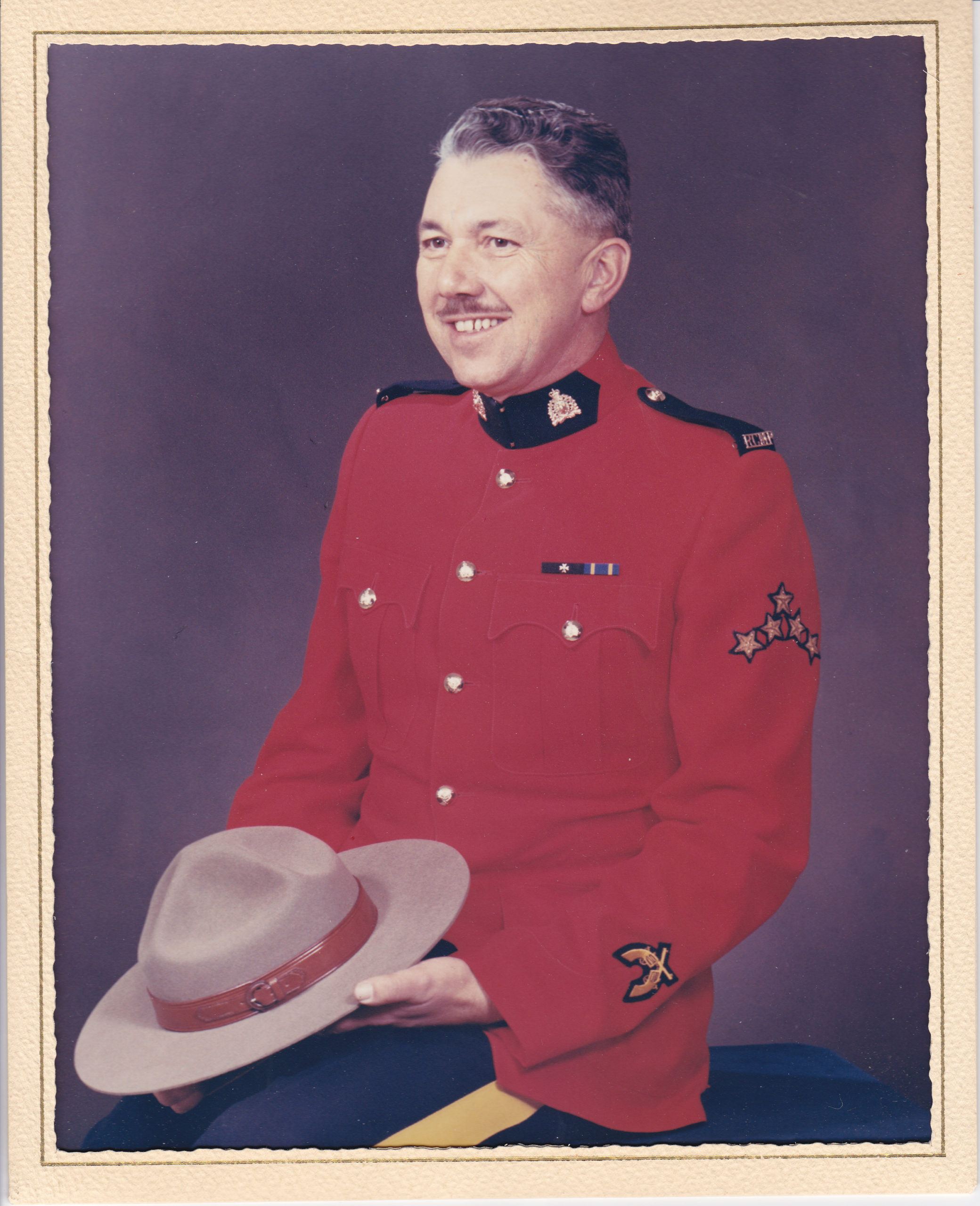 Home Town: Edmonton, Alberta
Training Division: "Depot," "N"
Troop: TR. G 1942
Regimental Number: 14375
Divisions Served: "F"
Medals & Honours: St. John of Jerusalem Serving Brother (1965), RCMP Long Service Medal, Saskatchewan Centennial Medal, Commissioners Volunteer Medal, Cosmopolitan Club Saskatoon- Good Citizen Award (early 1950's), Commanding Officer's Certificate of Appreciation (2002), CTV Regina Hero of the Week (June 23, 2000), Commissioner's Volunteer Award (2001)
Pillar Location: Pillar V, Row 8, Column C
Story: 
As the wife of William Kenneth (Kenn) Barker, I have always wondered if Kenn's motivation to join the RCMP was his desire to help others. His lifetime friend in his youth contracted polio and was disfigured with a badly crippled back. Pictures in Kenn's personal files show his friend in many youthful activities with Kenn, including canoeing, camping and skiing. His attitude to help others was evident throughout his career.
Born in Vancouver and raised in Edmonton, he joined the RCMP there in 1942. During the war years, Kenn was in a group that signed an undertaking to transfer to the RCMP Provost Corp or other armed services if required. They were eligible for the CVSM Medal after the war, with which he was eventually awarded.
Kenn took his early training at Depot and the second part at Rockcliffe, Ontario. An early posting to Ile a la Crosse, Saskatchewan, exposed Kenn to dog teams and probably spurred his interest in the Police Service Dog Section where he served for almost ten years, over time handling Police Service Dogs Ignatz and Blueboy, Dirk, Tip and Warrior. One of his cases made the headlines in the Saskatoon Star Phoenix regarding a bank robbery at the Royal Bank circa 1952. On his way to the office with Dirk, Kenn was made aware of a young RCMP Constable and a commotion at the top of the 25th Street Bridge. On inquiry, he was told that two private citizens who had trailed the two bank robbers immediately after the hold-up had seen them entering the bush on the river bank. With Dirk tracking on leash, they soon located the culprits hidden in the bush. Kenn persevered for several months in an attempt to recover the gun. While raking the area after the river had receded, he finally recovered the loaded gun.
Kenn was not one for confrontation and had a unique way of solving problems. For example, when he was in charge of Tisdale, Saskatchewan Detachment, he noted that the members stationed there were not keeping their urinal clean. Unobserved, Kenn cleaned only half of it. The boys got the message.
While still stationed in Tisdale in 1961, Kenn was sent on a Civil Defense course at Arnprior, Ontario and to the Nuclear Bacteriological Chemical Warfare School at Camp Borden. This resulted in a posting to Regina in charge of the Emergency Planning Branch. This was during the Cold War with the Soviet Union which resulted in the very serious Cuban Missile Crisis. Eventually, when reasonable calm was restored, Emergency Planning was not so necessary.
In his Dog Master days, Kenn had persisted in reporting to top management that he had observed that the dogs trained in the moist conditions of the East had great difficulty tracking when presented with the dry prairie conditions, and should be trained where the conditions were the toughest. Kenn was contacted in 1964 and asked where he would recommend that the new kennels should be located. His suggestion was the Red Deer area because of the varied terrain which included prairie, farmland and proximity to the mountains. This resulted in Kenn being posted, on paper, in charge of the Kennels being located near Innisfail, Alberta. However, there was a hitch. The purchase of the required land took much longer than expected. With our house in Regina sold and fall school season inevitable, it was necessary to re-post him to Saskatoon as East Section NCO, where he remained until his retirement in 1971 with the rank of Staff Sergeant.
Kenn's service to the Force continued long after his retirement. A quote from the inaugural Commissioner's Volunteer Award presented to Kenn in 2001 at the National Arts Centre in Ottawa, pretty well sums it up:
"S/Sgt. W.K. (Kenn) Barker retired from the RCMP in 1971 after 29 years of service. His entire service with the Force was spent in "F" Division. This included postings at northern, rural and municipal detachments, the Police Service Dog Section, the Emergency Planning Section, and finally as a Section NCO.
For a brief period following his retirement, Kenn worked for the Saskatchewan Workers compensation Board and then served as Assistant Ombudsman and Acting Ombudsman for the Province of Saskatchewan from 1973 to 1987.
Mr. Barker has always taken a leadership role with his volunteering. Kenn has been active with the Regina division of the RCMP Veterans Association (President 1977); Friends of the Mounted Police Museum (President from 1995 to 1999, as well as official Friends' Historian and photographer). Kenn has researched and organized the records for the RCMP Cemetery in Regina. He has conducted considerable research to identify the unknown graves as well, providing "Depot" staff with monthly updated Cemetery Records. Also, Kenn works closely with the RCMP Protestant Chaplain, Rev. Alan Higgs, to prepare for each Protestant church service at the Chapel. Rev. Higgs says "Kenn Barker is my right arm."
Kenn is a very thoughtful and considerate individual, especially to those who need assistance. For example, when RCMP veterans or widows of veterans need transportation, Kenn is there to drive them with a smile on his face.
"Mr. Barker's continuous commitment to the Force and community is well known and greatly appreciated. Kenn's dedication instills pride in belonging to our organization and advances, positively, our reputation." – C/Supt. Lynn Twardosky, Commanding Officer, "Depot" Division
Kenn researched and compiled a detailed history of the RCMP Chapel in addition to as his extensive research of the Depot Cemetery. With regard to the Cemetery, there is a chapter, written by him in the book BEHIND THE BADGE by Dale Sheehan and Redd Oosten. Kenn's grave research also included the RCMP Cemetery at Battleford, Saskatchewan, and their local community cemetery where many old RCMP graves were discovered and photographed.
As Kenn's wife, did I ever regret marrying a member of the RCMP? Marriage regulations in the 1940's required members to serve seven years before marriage. Our four year engagement gave me ample time to realize that Kenn's dedication to the RCMP would take precedence to any personal plans. I accepted that. We married in 1948 and early on he remarked regarding mealtimes, "Don't put the kettle on 'til you see the whites of my eyes, and I'll eat a peanut butter sandwich if necessary." I realized I'd need a give and take attitude for a successful relationship in unpredictable circumstances. No, I did not regret marrying Kenn. With his death at age 94, my two daughters and I have been left with fond memories of our life with Kenn and the RCMP.