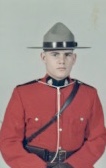 Home Town: Fort Langley, British Columbia
Training Division: Depot
Troop: TR. K 1965/66
Regimental Number: 24397
Divisions Served: "F," "B," "E," "K," "Depot"
Medals & Honours: Long Service Medal with Platinum Bar, Alberta Centennial Medal, Queen Elizabeth II Golden Jubilee Medal
Pillar Location: Pillar X, Row 10, Column D
Story: 
Born 18 MAY 1946 in Miami Manitoba but raised in Fort Langley B.C.
Joined the Force on 2 DEC 1965 as a member of "K"" Troop 1965/66. Equitation was still part of training.
Graduated from training in June of 1966 and posted to Unity Detachment, "F" Division. Posted to Battleford Town Det in 1967 then to North Battleford Highway Patrol and then North Battleford Rural Det.
In 1969 married Donna Newton of Cartwright, Man and had two daughters, Michelle and Beverly,in next two years. In 1972 was transferred to Broadview Det and while there has a son, Jason and was promoted to Cpl. In 1976 was transferred to Saskatoon Migratory Birds/Canada Shipping Act section for three years before being transferred to Saskatoon Drug Section. While there was promoted to Sgt. In 1985 was transferred to NCO i/c Rosetown Det where remained for 5 years. In 1990 promoted to S/Sgt and transferred to East Section NCO, Swift Current Sub/Division.
In 1992 was Commissioned to rank of Inspector (O.1648) and transferred to Assistant Officer Commanding Gander Sub/Division Nfld. ERT Commander for "B" Division
In 1995 was transferred to OIC Courtenay Detachment "E" Division Vancouver Island. ERT Commander for North Island ERT.
In 2000 was promoted to Superintendent and transferred to Calgary as the District Commander Southern Alberta District. ERT Commander for Southern Alberta ERT.
With 41 years, 1 month and 1 day service retired on 3 JAN 2007.