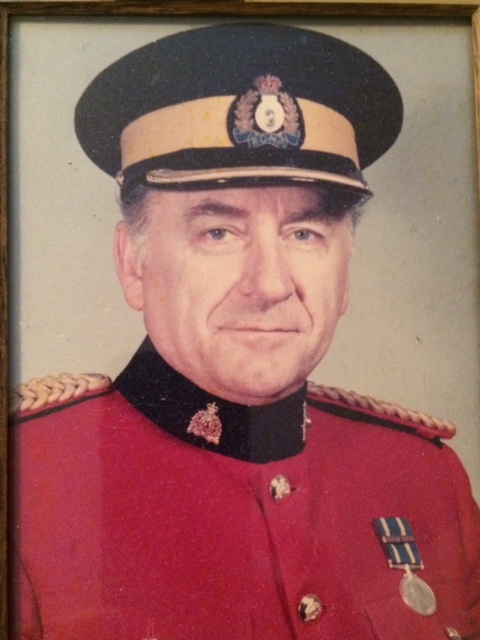 Home Town: Picton, Ontario
Training Division: Depot
Troop: TR. D 1956
Regimental Number: 19313
Medals & Honours: Long Service Medal
Pillar Location: Pillar IX, Row 33, Column A
Story: 
Randil Bruce Claxton, Reg # 19313, born March 22, 1936 in Picton, Ontario. Graduated from Prince Edward Collegiate Institute in 1955. Randy originally considered a career in the military Provost Corps but was swayed to join the RCMP while attending a football game at Queen's University and saw a recruiting poster. He went to Regina for basic training April 9, 1956 and graduated with D Troop, a group of men he would continue to have contact with throughout his career and his life.
First posted to Fort St. John, BC in 1956, the wild west of policing, Randy met Barbara Greig. Originally from Saskatoon, Saskatchewan, Barb had gone north to find work and they found each other. Married April 11, 1959, their journey through transfers, promotions and children began. Prince George, BC 1959-1961 and the birth of 2 sons, Brett & Rick. In the fall of 1961, Randy was transferred to the Security and Intelligence Branch in Ottawa, Ontario and was there from 1962-1964. Their first daughter, Geri was born March 1962. Randy began to work on counter espionage duties and was transferred to Kirkland Lake, Ontario in 1963. In October 1964 they welcomed their fourth and last child, a daughter, Lisa.
Randy was transferred to Sault Ste. Marie, Ontario from 1964-1968, then back to Ottawa, Ontario from 1968-1974 and finally to Toronto, Ontario from 1974-1984.
In 1974, Randy was commissioned as an Inspector, serving as officer in charge of counter espionage and counter terrorism branches and then promoted to Superintendent in charge of operations in Toronto until his retirement from the RCMP in July 1984.
Randy transitioned from Superintendent with the RCMP-Security Service to Director General with the newly formed Canadian Security Intelligence Service (CSIS) in 1984 which included another move, this time to Vancouver, BC.
Randy served in this capacity until 1988 when he was appointed CSIS Senior Liaison Officer and moved with Barb to Washington, DC and a position at the Canadian Embassy. In this role he worked with the FBI, CIA, MI5 along with Australian agencies and others. He was very well respected and developed excellent working relationships with these agencies. He served in this position until his retirement in 1990.
After retiring from CSIS, Randy and Barb returned to Canada, and settled in Cherry Valley, Ontario where both became very involved in the community. Randy became a member of the Prince Edward Memorial Hospital Foundation and the Prince Edward County Agricultural Society. He also became a director and chair of the Prince Edward Corrections Advisory Board. He is a past President of the Kiwanis Club of Picton and recipient of their prestigious Mel Osborne Fellowship Award. Both were very active with the Prince Edward Hospital Auxiliary with Barb being a past President and both being given Lifetime Memberships.
Randy and Barb also became very active participants and attended several RCMP D Troop reunions, from Saskatchewan to the Maritimes. Randy so enjoyed this fellowship and time to reminisce.
Randy loved puttering outside, became very good at carving birds and was known to golf, sometimes 4-5 times per week. He and Barb also enjoyed their grandchildren, Derek, Andrew, and Taylore. Sadly, he never got to meet his great-grand-daughter Brooklyn or his newest great-grandson, Nathaniel Randil.
Not long after retirement, Randy received his first breast cancer diagnosis. This would happen twice more. He would go through several surgeries and rounds of both radiation and chemotherapy. He became a very vocal advocate for breast cancer awareness with an emphasis on educating men.
Sadly, Randy passed away April 13, 2013 after a very long and extremely courageous battle with cancer.
He once said "in training you are given something that stays with you a lifetime" and claimed to have "an RCMP heart".
Randy was a Mountie through and through.