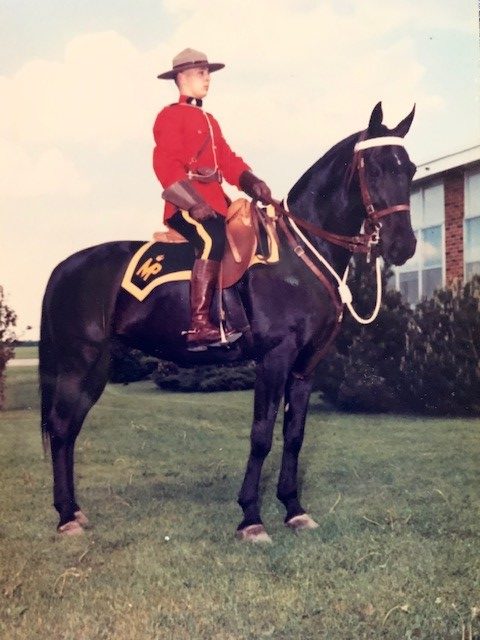 Home Town: Kamloops, B.C.
Training Division: "N"
Troop Number: Tr. 4 1965/66
Regimental Number: 24367
Divisions Served: "N," "K," "HQ"
Medals and Honours: RCMP Long Service Medal with Silver Clasp, Alberta Police Medal
Pillar Location: Pillar VI, Row 11, Column D
Story: 
I was sworn in as a member of the RCMP on November 24, 1965 as a 3/Cst. at 19 years of age.  I was posted to "N" Division, Ottawa, to undergo Basic Recruit Training where I was assigned to Troop 4.  I graduated from training in June 1966 and was posted to Lethbridge Detachment in Lethbridge, Alberta.  My main duties at this post included Provost, serving court documents and investigating complaints of a minor nature given my junior service.  
In August 1966, I was posted to Fort Macleod Detachment that was very busy at the time dealing with numerous alcohol related offences involving members of the Blood and Piegan Reserves that bordered Fort Macleod.  In the two years I was posted to Fort Macleod, we had a yearly prisoner count in excess of 3300 prisoners, that understandably taxed the 9 member detachment to the limit.  The lack of adequate cell space resulted in the Force converting an abandoned house into a cell block which was outfitted with steel cages to house the prisoners. As there were no washroom facilities, we were required to place a tin pail filled with creosote in each cell for the prisoners to relieve themselves.  Needless to say, there was the occasional incident when a prisoner would take revenge by throwing the contents of the pail at the member on duty. Fort Macleod was an excellent training ground that allowed me to be involved in a variety of criminal investigations including murder, Armed Robbery, BE&T and serious assaults.
In November 1968, I was posted to Blairmore Detachment in the Crowsnest Pass that was situated on the Alberta/BC border.  Blairmore came with a good variety of police work, especially on paydays when the miners left the pits and headed to the nearest drinking establishment that often resulted in an overnight stay in cells.  
In May 1969, I was transferred to Waterton Lakes National Park.  Police work in the park was at times mundane, however, regular nightly midnight dances would often liven up the town.  Being a national park, we were required to wear Red Serge as part of our working uniform, however, this was restricted to weekend day shifts only.  
In September 1969, I received my marriage posting to Coutts Detachment, a 3-member detachment situated on the Alberta/Montana border as well as being a 24-hour Port of Entry into Canada.  My wife and I occupied the detachment married quarters and in May 1970, the detachment was relocated 10 miles north to the Town of Milk River, where my wife and I again occupied the married detachment quarters.  This posting provided me a great deal of experience in a variety of investigations involving the Immigration and Customs Act as well as the Narcotic Control Act.  I made numerous drug seizures while posted to this detachment, but the ultimate was my seizing of 60 kg of marijuana that I discovered hidden in a vehicle during a routine traffic stop early one summer morning.
In July 1974, I was transferred to Calgary GIS as an investigator in Homicides and Sudden Deaths.  One of my duties was to attend the Post Mortems of all suspicious deaths that occurred in Calgary S/D as well as taking exhibits and forwarding them to the Crime Lab for analysis.  I had the pleasure of working with Chief Pathologist, Dr. John Butt who later became synonymous with the role he played in the Swissair 111 disaster that occurred off the coast of Nova Scotia in 1998.
In June 1975, I was transferred to the Calgary National Crime Intelligence Section/RCMP/DNR Program as an investigator, where I became deeply involved in investigating the criminal activities of the Grim Reapers Outlaw Motorcycle Club.  In July 1976, the RCMP/DNR Unit and I were transferred to the Calgary Commercial Crime Section where I carried on my investigation into the illegal activities of the Grim Reapers Motorcycle Club.  The end of this investigation resulted in the President of the Grim Reapers being convicted of numerous criminal offences, including Living Off the Avails of Prostitution and Income Tax Evasion.  The club President subsequently received a 7-year sentence.  However, he was able to escape custody shortly after arriving at Stoney Mountain Penitentiary and make his way to Arizona, where he lived under an assumed name before being arrested and returned to Canada few years later.
In May 1978, I was transferred to "HQ" Ottawa, Commercial Crime Branch, as a Reader/Analyst in the Bankruptcy and Government Fraud Units.  In August 1982, I was transferred back to Alberta to the Edmonton Commercial Crime Section in the Bankruptcy and RCMP/DNR Units.  In July 1986, I transferred to the "K" Division Internal Investigations Section, where I conducted Service and Statutory investigations.  In 1988, I was temporarily transferred to VIP Security duties at the 1988 Calgary Winter Olympics where I was in charge of hotel security for the VIP's.  My team was responsible for providing protection to HRH Princess Anne, King Juan Carlos of Spain as well as both the Swedish and Norwegian Royal families.
I continued on with my duties in the Internal Investigations Section following the Olympics until being transferred to St. Albert Detachment as OPS/NCO in July 1990.  In 1993, I was transferred to Morinville Detachment as OPS/NCO where I remained until being transferred back to Internal Investigation duties in Calgary.  I retired from the Force in September 1997 and entered the private sector as a Fraud Investigator with an Insurance Company where I remained until 2008.  I then did contract work as a Fraud Investigator for Alberta Elections and Field Investigator for the RCMP Northwest Region Recruiting Unit before completely retiring in 2014.  
My son, Ryan Davies, joined the Force in 1998 with Regimental Number 46952 and is currently serving as the NCO I/C Sandy Bay Detachment in "F" Division.