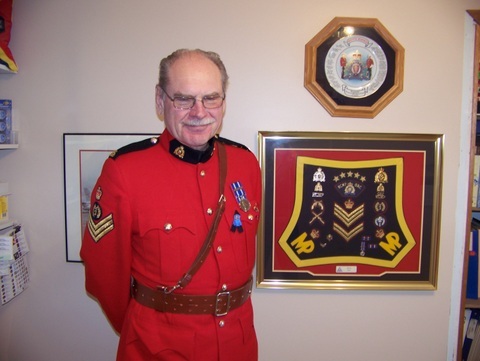 Home Town: Saskatoon
Training Division: Depot
Troop: TR. S 1966
Regimental Number: 24665
Divisions Served: "Depot," "E," "HQ", Canadian Police Collage, Human Rights Br., Disclosures Section, Policy Planning and Research Disclosures Section.
Medals & Honours: Long Service Medal
Pillar Location: Pillar IX, Row 10, Column A
Story: 
Ernest Herbert Fast, Sgt., Reg., # 24665 (Rtd)
MARCH 18, 1966 – APRIL 01, 1993
PRE-RCMP BACK GROUND
Born in Prince Albert, Sask., December 22, 1943. In those days Dad only had horses for transportation. But there was a Spiritwood RCMP Sgt. Arthur Argent that Dad and the farming community knew quite well and he very often visited the farm near Resolute School. Dad always was a big hearted man and any time the police car showed up Dad would give him a sack full of spuds or cow's cream that was stored in a dried out water well with dugout ice tossed in as there were no hydro lines in that area. Anyway, Dad asked the Sgt., if he would mind bringing his son home from the train station in Spiritwood as he was arriving from Prince Albert by rail. The Sgt. mentioned that he had to take a prisoner to Prince Albert so after dropping him off he would pick up my wife and son. I was only nine days old when I had my first ride in a police car. Had that ride made my career choice?
I left high school before completing high school grades as I did not want Mom & Dad paying rent for my Spiritwood accommodation. I worked on a farm near Spiritwood until I injured my wrist and could not get immediate surgery to remove broken off part of my wrist bone.
A former Spiritwood neighbor was a manager at the "Meads Hardware" store in Eston, Sask. This manager somehow became aware of my situation and asked if I would assist him and learn how to run the store as he was being transferred to Alberta in a few months. I really enjoyed the job, and the 2 female staff, as I was meeting wonderful customers and helping them with products etc. It was the helping of people that I really enjoyed.
There was an RCMP constable boarding at the same place I was renting in Eston, and he told me about an RCMP member from Regina was coming and could bring the exam. It was a short time later while still manager of MEAD Stores in Eston, that I had the opportunity to write the RCMP exam, which I passed.
Depot Division "S" Troop March 18 to September 12 1966
Being a recruit at that time was an experience that was very challenging, demanding and intense, but something that I did enjoy going through to build a better me. Our troop started with 32 members but we lost one because of injuries to both his feet. During drill marching we were told to lift our foot up 12 inches and drive it down 14 inches. Depending on a particular marching order with turns, or maneuvers either foot would be used to do the FIRM drop down. Unfortunately, one of our troop candidates encountered fallen arches in both his feet which gave him a medical discharge.
Our "S" Troop was the last troop to perform the musical ride program on our graduation date. After that some of the horses were shipped to Ottawa to continue with the musical ride. Some of the older horses were sold, many were purchased locally, and the buyers told the Depot Commanding Officer that if there was a function that required a horse to be ridden that they would gladly bring the horses back for that function.
BRIEF SUMMARY OF EXPIRIENCE
I joined the R.C.M.P. in March 1966 and have gained experience in a wide variety of areas since that time. My work history includes duties such as general police duties; highway patrol; general investigation; instructor; reviewer/analyst/developer for policies regarding the Privacy Act, Access to Information Act and for all training programs offered at the R.C.M.P. Training Academy; and developer/designer/implementor of training programs for R.C.M.P. personnel, supervising both male and female personnel, involved in training, administrative, security, investigative and personal functions, including designing, developing and implementing a functional unit for statistical reporting purposes regarding Bill C-43 Legislation proclaimed July 1, 1983, at Headquarters, Ottawa. Other federal government departments (i.e. Department of Fisheries & Oceans, Canada Employment and Immigration, and Transport Canada) and provincial agencies (i.e. Dakota Ojibwa Tribal Council Police, Manitoba and Saskatchewan Department of Highways & Transportation).
Posted Golden, B.C. September 1966
Salmon Arm, B.C. April 1967 – January 1968.
Alexis Creek, B.C. January 1968
Kamloops S/D General Duties April 1968
Kamloops Hwy Patrol Aug 1968
RCMP Training Academy-Regina-June 1975 To June 1979
1975… Instructor's Familiarization Course,
Instructional Techniques Course,
Driver training Instructors' Course,
1976… Canadian Police Information Centre Terminal Operators' Course,1978… Criterion Reference Instruction Course,
Instructional Module Development Course,
Technology, Research and Training Design Course,
Firearms Control Course,
1979… Police Supervisors' Course,
During my posting, I had the fortunate opportunity to serve and instruct in various areas;
General work site Operational Techniques including Criminal Code matters
Operation Training Unit monitoring instructional staff ensuring all instructional standards were Met.
Program Development Unit ensures that all lesson plans are consistent with Provincial and Federal legislative acts.
The Standards section involved researching, designing and developing training programs mostly for Municipal, Provincial and Federal Agencies outside the RCMP, although the RCMP was still a large component within the program.
Supervising both male and female personnel involved in training, administrative, security investigative and personal functions, including designing, developing and implementing a functional unit for reporting purposes regarding Bill C-43 Legislation proclaimed July 1, 1983 at Headquarters Ottawa, Ontario.
September 1966 to July 1975 I was a constable doing general law enforcement duties in the Province of British Columbia, in places as Golden, Salmon Arm, Alexis Creek and Kamloops.
1969… Radar Speedometer Operator's Course, Kamloops, British Columbia
1974… Transport Truck and Trailer Air Brake Inspectors' Course, Nelson, British Columbia
1974… Mechanical School Bus Inspectors" Course, Nelson, British Columbia
1974… Vascar Operators' Course, Kamloops, British Columbia
1974… Advanced Driver Training and High-Speed Driving Course, Vancouver, British Columbia
1975… Police Leadership Training Course, Esquimalt, British Columbia
1980… Technical Report Writing Course, and Effective Writing Course,
1981… Basic Accounting Course,Teacher of Adults Diploma completed in May 1981, at Algonquin College of Applied Arts & Technology, Ottawa, Ontario,
1982… Directives writing Course,
1984… Career Transition & Life Planning Course, Micro Computer 1, Ministry of Education, Ottawa, Ontario,
1990… Certificate for Accelerated Training, University of Regina, Sask.,
1991… Native Culture Workshop, May 8 – 10, 1991
In April 1993 a Staff Sargeant from Regina came to our home in Saskatoon, and I was asked to sign the discharge papers stating I was released from the RCMP by medical discharge!
Ernest Herbert Fast, Sgt., Reg., # 24665 (Rtd)