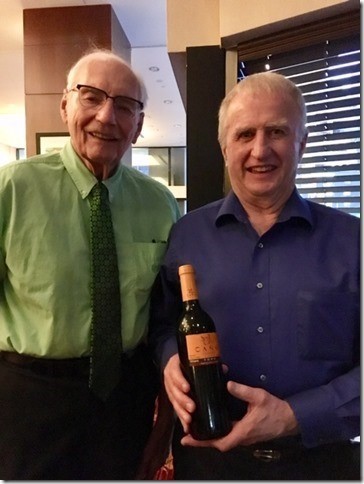 Home Town: Midland, ON
Training Division: "Depot"
Troop: TR. A 1956
Regimental Number: 19209
Divisions Served: "E," "O," "K"
Medals & Honours: Long Service Medal with Gold Bar, 125th Anniversary Confederation of Canada Medal, Queen's Golden Jubilee Medal
Pillar Location: Pillar IX, Row 27, Column D
Story: 
Growing up in small town Midland, Ontario, I had never even seen a live RCMP member when I drove to Orillia for an application to join.  There was no discussion or hesitation, I just did it.
On January 3rd, 1956, Neville Saunders and I were sworn in at "O" Division HQ, Toronto.  We left that night for "Depot" by train.  When we arrived in Regina, we learned another recruit from Brandon had boarded the train in Winnipeg.  Three of us were transported to Depot together.I didn't know what to expect but it sure wasn't F-1.  Obviously our Brandon compatriot had similar thoughts.  He disappeared the following morning, never to be seen again.  The rest of us were trapped. We couldn't afford the princely sum of $250.00 to purchase our discharge.
After passout John Annand, Bob Ellis, Harley Rea, and I were posted to "E" Division (B.C.).  Ellis drove his Volkswagon, while the rest of us took the train.  From Vancouver, we sailed to E Division HQ in Victoria on an overnight CPR Ferry.  Our brass and leather was spit and polished to perfection.  We wanted to look our best.
The next morning, the CO was unavailable, so we had the misfortune to be paraded before the IEB Officer, Supt. CB MACDONELL.  He informed us we were the sorriest lot of recruits he had ever seen and that our future in the RCMP was extremely bleak. He then told Annand, Ellis, and Rea they were posted to Burnaby.  I was to report to Vancouver S/Division.  The kindly Supt. then suggested we depart and said he never wanted to see any of us again. So much for "Welcome to E Division."
At Vancouver S/Division, Supt. Niven informed me I was assigned to Vancouver Town Station, located in the Vancouver Provincial Courthouse.  The Supt. warned me he was sick and tired of getting complaints from County and Assize Court Judges about RCMP members failing to salute them.  Failure to comply would be dealt with severely.  Of course new recruits had no idea what a Judge looked like … lawyers, janitors, and other unsuspecting miscreants were thrilled with our enthusiastic demonstrations of respect!
Recruits usually trained at VTS for one year. As that time approached, S/Sgt. Durnin said I was being considered for Richmond or North Vancouver.  I told him I didn't join the RCMP to do municipal policing, preferring to go to a small detachment such as Alert Bay or Squamish.  Staff's reply, "Put it in writing."  I did.  Two weeks later, I was posted to Burnaby, the largest detachment in Canada!  I'm sure the entire NCO's Mess enjoyed much hilarity at my expense.
In June 1957, I was posted to Burnaby Highway Patrol, occasionally on motorcycle.  Burnaby had a Harley and 2 Indians.  Bob Ellis was dating a student Psychiatric Nurse, and set up a double date with one of her classmates.  I am forever grateful to him for introducing me to my wife, Violet.
In 1958 I was sent on a permanent/temporary transfer (so they wouldn't have to pay living expenses), to Doukhobor Patrol at Nelson S/Division.  Three of us were sent to New Denver to set up a 24-hour one-man roadblock.  We checked and searched every vehicle, looking for Doukhobors carrying explosives.  Similar roadblocks were set up elsewhere, effectively sealing off the Kootenays.  Later I was transferred to the 2-man Nakusp Detachment.
Violet and I were married under the 3 year plan and took a Penalty Posting to Burnaby, where I worked some General Duty, but mostly Plain Clothes in CIB, now called GIS.  The workload was challenging, but during the next 10 years I was promoted to Corporal and put down roots in Burnaby.  We found an area we liked, a good church (Gordon Presbyterian), and both our daughters were born there.
On a visit by Bob Ellis from the Great North, he asked why we were throwing away money on rent for an apartment?  End result: he loaned us $1000.00 to buy our first little home, which gave us the equity for 2 future up-grades.  We still enjoy the one in Deer Lake Place, Burnaby!
In 1969 I took Polygraph Training at Dick Arther's National Training Centre for Lie Detection in New York City, then In-service Training with the Michigan State Police.  I soon became the RCMP's first full-time polygraphist.  I was given office space in Fairmont Barracks – Hogan's Alley – the old jail cells! (They did remove the bars.) Although based in Vancouver, I travelled extensively throughout all 10 Provinces and The Territories. Promoted to Sergeant.
In 1973 I was commissioned to the rank of Sub-Inspector and transferred to North Vancouver Detachment, then in 1975 transferred to Vancouver District 1 HQ as OIC GIS.  Then I transferred to OIC Vancouver Joint Forces Co-ordinated Law Enforcement Unit (CLUE) in 1981, however the move was short-lived: 6 months.
In 1982I transferred to OIC Drug Enforcement Branch, O Division, Toronto, with a promotion to Superintendent. My last assignment there was Head of RCMP Security for The Papal Visit, North York Site, then forthwith returned to BC.  Violet's favourite view of Toronto was from the rear view mirror as we left the city!
I returned to E Division as OIC Drug Enforcement Branch in 1984, but soon took over the 1985 Narita Explosion/Air India Task Force, for 15 months.  Violet thought we were home to stay, but not so.  In 1987 I was transferred to OIC Criminal Ops in K Division, Edmonton, Alberta, and promoted to Chief/Supt., then spent 3 months in Calgary as the RCMP Operational Commander for the 1988 Winter Olympics.
In 1990 I was promoted to Assistant Commissioner and made CO of K Division.  During that time, I had the privilege of attending an INTERPOL Conference in Montevideo, Uruguay.  
A highlight of my 6 years in Alberta was developing a good relationship with the Indigenous communities.  The first major move was a leadership event called Sharing Common Ground, attended by over 1000 delegates.  That led to forming an Aboriginal Elders Advisory Committee, whose guidance helped improve policing in Indian and Metis Communities.  Violet and I attended many of their social events.  At one of the large Pow Wows, I was honoured with the Indian name Kon Nai Na (meaning Chief of all Chiefs), by Blood Indian Elder Harold Healy, in a Transfer of Headdress Ceremony.  We remained good friends with Harold and Jean, even in retirement.  They visited us.  We attended their 50th anniversary in Lethbridge.  I also gave the Eulogy at Harold's funeral in St. Paul's Anglican Church, Blood Reserve, Alberta, 2015.
In 1992, K Division hosted a Canada 125 Strawberry Tea, where piper S/Sgt. Jim Medley piped in the Lieut. Governor and other dignitaries.  Afterward, he approached me about the RCMP getting their own tartan and piper's uniform with kilt.  Their current order of dress was red serge and 'banana pants.'  Result: Jim and Violet (who had her BFA with distinction from the University of Alberta, 1990), prepared a proposal for both, which K Division forwarded to Ottawa for consideration.  When it was rejected in total, I suggested Jim start a pipe band to create a need for a tartan.  He did.  The inaugural performance took place in 1993 when I retired with all the fanfare of a Change of Command Ceremony!  The "official" tartan, uniform, and band finally happened in 1998 when Ottawa made it a project for the RCMP 125th anniversary.
The tartan design was put out to competition.  Before submitting her drawing, Violet had it reproduced on a highly specialized computer at West Coast Woollen Mills, Vancouver.  Her precise, historic design was the unanimous choice from 12 entries.  It was promptly sent to Scotland for accreditation by The Scottish Tartans Society and named Royal Canadian Mounted Police.  The formal accreditation presentation by HRH, Princess Anne, the Princess Royal, took place in New Brunswick, June 1998.  We were there, and even met HRH.  Meanwhile, a piper's uniform with red serge and kilt was officially adopted by the RCMP.  The 'coming out' was a grand performance by a composite RCMP pipe band at the Halifax Tattoo, July 1, 1998. Commissioner Murray proudly took the salute!
On retirement in 1993, we put our possessions in storage and travelled to Hong Kong, China, Malaysia, Indonesia, and Singapore twice as daughter Kelly, with two children, were living there.  We returned to the arrival of daughter Mary-Lou's first child, our third granddaughter!  After renovating our Burnaby home we settled into the joys of retirement, feeling blessed.
In 1998 I wrote the book "Where Shadows Linger", published by Heritage House Publisher, with Supt. Bruce Northorp C.M. (retired).  It became the basis for the Bernie Zuckerman CTV Docudrama, "The Investigation," directed by Anne Wheeler.  It aired Sept. 14, 2003.
I was on the Steering Committee for the RCMP St. Roch II in 2000, where the vessel RCMP Nadon circumnavigated North America, re-enacting the original Northwest Passage voyage.
I am a Life Member of the Vancouver Veterans Association, having served as President and various executive positions, as well as on the Board of Directors.  I have kept physically active (despite having knee replacements in both knees), with golf, snowshoeing, and frequent walks around nearby Deer Lake and Burnaby Lake.  Hiking the Grouse Grind became a passion, almost an obsession.  It's only 2.9k, but has an elevation gain of 2700' and more if going to the peak!  We love it.
We thoroughly enjoyed the 2005 Regina AGM and 49th Troop Reunion, travelling there from Vancouver with Bob Ellis and Art Asleson.  Although Art is not on the Group plaque, his name is on a Pillar, and his story is on the Virtual Wall (A.G. Asleson, Reg. #19204, Troop A 1956, Sept 28th 1933-April 14th, 2018)