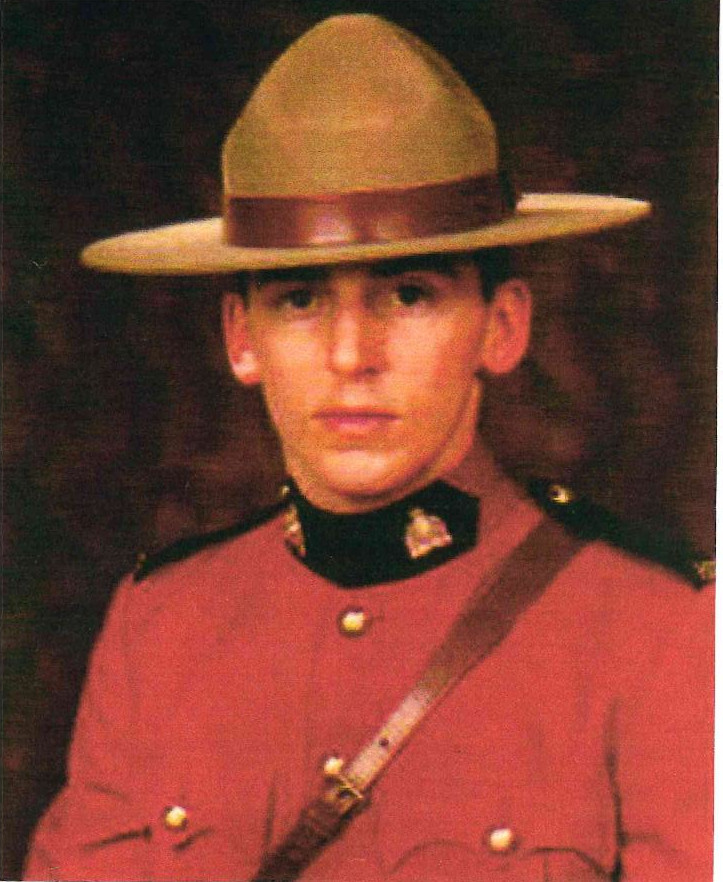 Home Town: Sussex, NB
Training Division: Depot
Troop: TR. 20 1974
Regimental Number: 31895
Divisions Served: "J"
Medals & Honours: Long Service Medal with Bronze, Silver, and Gold Clasp and Stars, The Queen Gold Jubilee Commemorative Medal, Order of Merit Medal (Police Forces of Canada), Meritorious Life Saving Award – Priority of Canada, J Division Commanding Officer's Commendation, 1988 Canadian Winter Olympics Medallion for contribution to Youth Programs, The Imperial Order of the Daughters of the Empire Community Relations Award.
Pillar Location: Pillar VI, Row 4, Column B
Story: 
Sgt Douglas James Lockhart M.O.M. proudly served for 35 years with the Royal Canadian Mounted Police from July 11, 1973 to July 14, 2008.  He graduated with Troop 20 in 1974 and was posted to RCMP "J" Division.
He was born in Sussex, New Brunswick.  He has ten siblings residing throughout Canada and Europe.
His late father, Harold L. Lockhart, served for six years with the Canadian Armed Forces overseas during World War II.  He was part of the Canadian Second Division – Carleton and York Regiment.  He was severely wounded during "Operation Husky" in Sicily, however chose to continue his service overseas once released from hospital.
His mother, Betty A.A. Lockhart (nee Noakes) of Surrey, England survived the London blitz and moved to Canada with his father at the end of the war.  His parents were married in 1942 in England.
He also has a brother, Sgt. Robert W.A. Lockhart serving with the RCMP in D Division, Manitoba.
As a youth, he participated in sports, playing hockey, baseball, basketball, golf, and later coached minor hockey in the various detachments that he served in.  He also participated as a club leader and was a member of the Royal Canadian Sea Cadets during his middle and high school years.  He graduated from Fredericton High School and took summer sessions at the University of New Brunswick in Criminology and languages. 
It was his parents' loyalty to one another, their strong belief in our Canadian way of life, as well as working as a young man with his grandparents, Elkana and Laura Lockhart, on their family farm that gave him the desire to serve others as well as his work ethic to succeed as a member of the Royal Canadian Mounted Police.
He married Marie M. Lockhart (nee Flemming) whom he met while they attended Fredericton High School together in Fredericton, NB.  Their union of 51 years gave birth to four children; James, Tricia, John, and Katherine.  They are blessed with nine grandchildren and two great grandsons.  He has a great reverence for his life partner for her support and willingness to take this life journey together and faithfully serve along his side while serving with the Royal Canadian Mounted Police.
He is a graduate of RCMP "Depot" Division, Regina, Saskatchewan, and the Canadian Police College – Major Crime, Ottawa, Ontario, and J Division Emergency Response Training at CAF Bases Gagetown, Tactical operations as well as completion of twenty-seven in service police related courses.  Graduate of the 179th Session – FBI National Academy at Quantico, Virginia, USA, including graduate courses from the University of Virginia.
He started his working career with the Province of New Brunswick – Department of Justice.  He and his immediate family served the RCMP with eleven postings throughout RCMP J Division which included General Duties, Major Crime, Aboriginal Youth and Community Policing.  After retiring from the RCMP he instructed the "Policing and Security Foundations Program" at the Atlantic Business College, Fredericton, NB for a period of seven years.
Postings: J Division – Fredericton Detachment, Doaktown Detachment, Fredericton Detachment – University of New Brunswick language training, St. Quentin Detachment, Bouctouche Detachment, Florenceville Detachment, Jacquet River Detachment, NCO I/C Plaster Rock Detachment, 2 I/C Fredericton General Investigation Section, NCO I/C Fredericton Sub-Division Major Crime Unit, NCO I/C Sussex Detachment, Acting District Commander, District #3 – Hampton and Atlantic Region J Division, Aboriginal Youth and Community Policing.
He was also a member of the first RCMP J Division Emergency Response Team and a member of the J Division Tactical Operations Team.