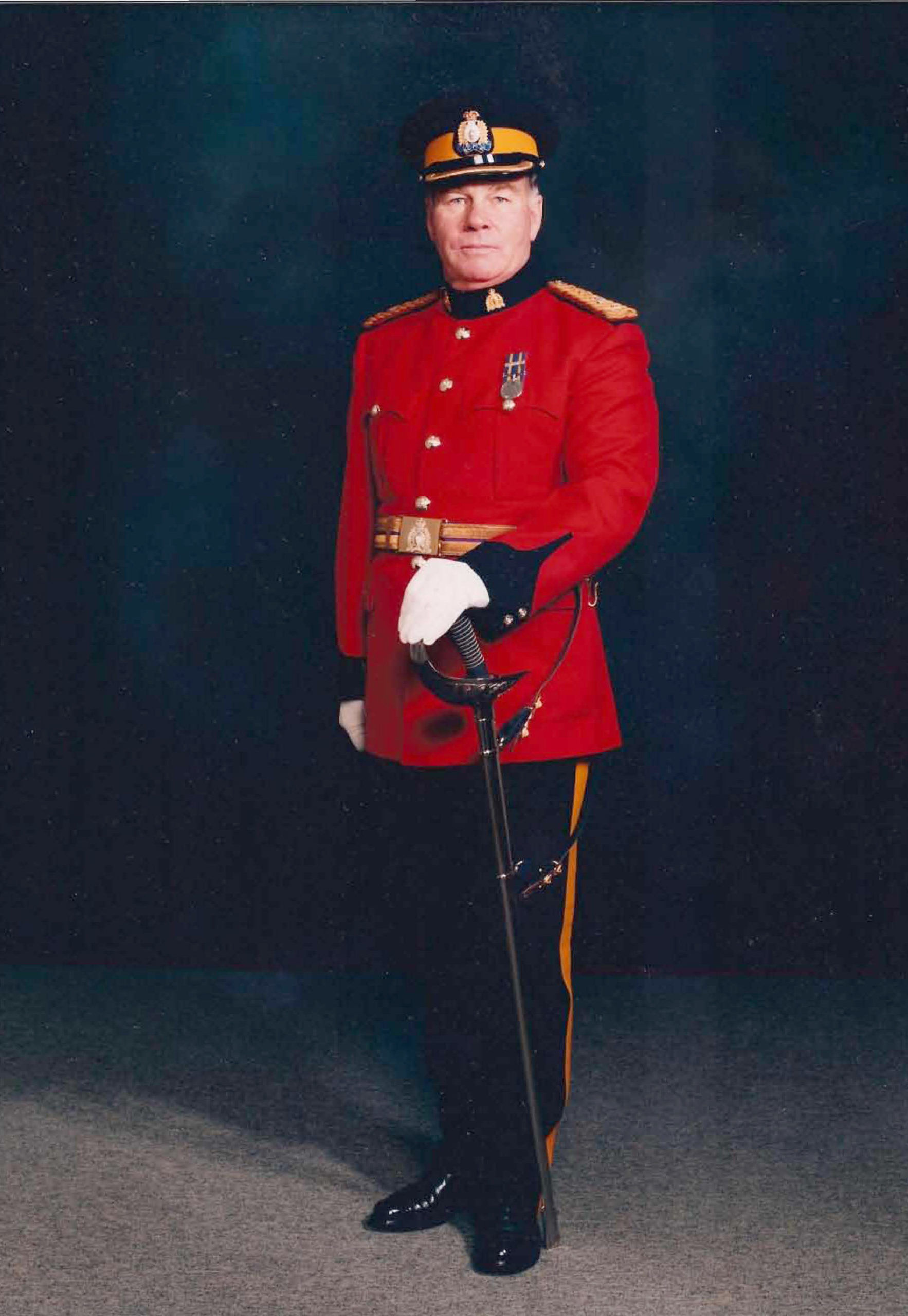 Home Town: Winnipeg, Manitoba 
Training Division: "Depot"
Troop: Squads S and J
Regimental Number: 17327
Divisions Served: "F," "D"
Medals & Honours: Long Service Medal
Pillar Location: Pillar VII, Row 16, Column C
Story: 
James (Jim) Russell Nickel started training at Depot in November 1951 with S squad. Shortly thereafter he was selected to represent Canada in kayaking at the 1952 Olympic Games and was grateful to receive a leave to train and compete in Helsinki. He had fully expected to miss out on his Olympic dream; this gesture by the RCMP was greatly appreciated.
He returned to complete his training with J squad and graduated in November 1952. Jim's first posting was at the 2-man detachment in Carrot River, Saskatchewan. This was his introduction to one of many communities where he was welcomed not only in his professional role but also found doors open to participate in the community sports and cultural activities.
In his first 5 years Jim was posted to Carrot River, Nipawin, Uranium City and Tisdale. In Tisdale he met his wife Alma who had taken a position at the hospital. They married in November 1956 and soon after were transferred to Regina. It was always a sad day to depart despite the short time in every town. They always anticipated to just as easily become involved in the community at the next posting. In their early family years, they were posted to Kipling, Punnichy, Hudson Bay and then back to Tisdale.
Lifelong friendships were made during these early postings. It was like an extended family. Despite being transferred often, sometimes staying less than 2 years, the members' families stayed in contact – Jack and Joan Fargey, Muriel and Dave Imrie, Marg and Ross Harding, Ralph (Spike) and Leona Keiser, Bill and Terry Drake, Carl and Wilma Smith.
In 1971 Jim received a promotion to Staff Sergeant and was posted to Swift Current, Saskatchewan. This was the first time the family lived outside of the detachment, their first home! As with their previous postings there were opportunities for Jim, Alma and their 3 children to be involved in community activities – hockey, figure skating, school band, choir, flat-water canoeing, Shrine Club band, and the Lions Club. Jim refereed and organized the referee assignments for Junior Hockey. He also coached canoeing and took teams to the Saskatchewan, Western Canada and Canada Games.
Inspector Carl Smith was in charge at Swift Current and he put Jim's name forward for officer rank. Jim became a Sub-Inspector and was transferred to Winnipeg, Manitoba in 1974. Four years later he was promoted to Inspector with a posting back to familiar territory in Regina, Saskatchewan. This role included inspections at the detachments in the Regina Subdivision which he recalled being inspected over the years in these same small towns. His next promotion was in 1983 to Superintendent of the Regina Subdivision.
Jim retired October 30, 1986. The Regina Subdivision held a banquet for him and people from detachments throughout the area attended. These were special times to remember the people Jim worked with, the many communities, and the friendships created over 35 years. Jim honoured the respect he received as an RCMP in every community where he served. He was firmly committed to his duties and responsibilities. He was proud to be part of an organization dedicated to a community's wellbeing and always expressed his appreciation for the support he received in his role.
The Nickel family recognizes the unique experiences that were presented by Jim's service with the RCMP. His story is a reflection of a rewarding career and the opportunities to live in so many great communities.