John Edmund Hellmut Johannes Schneider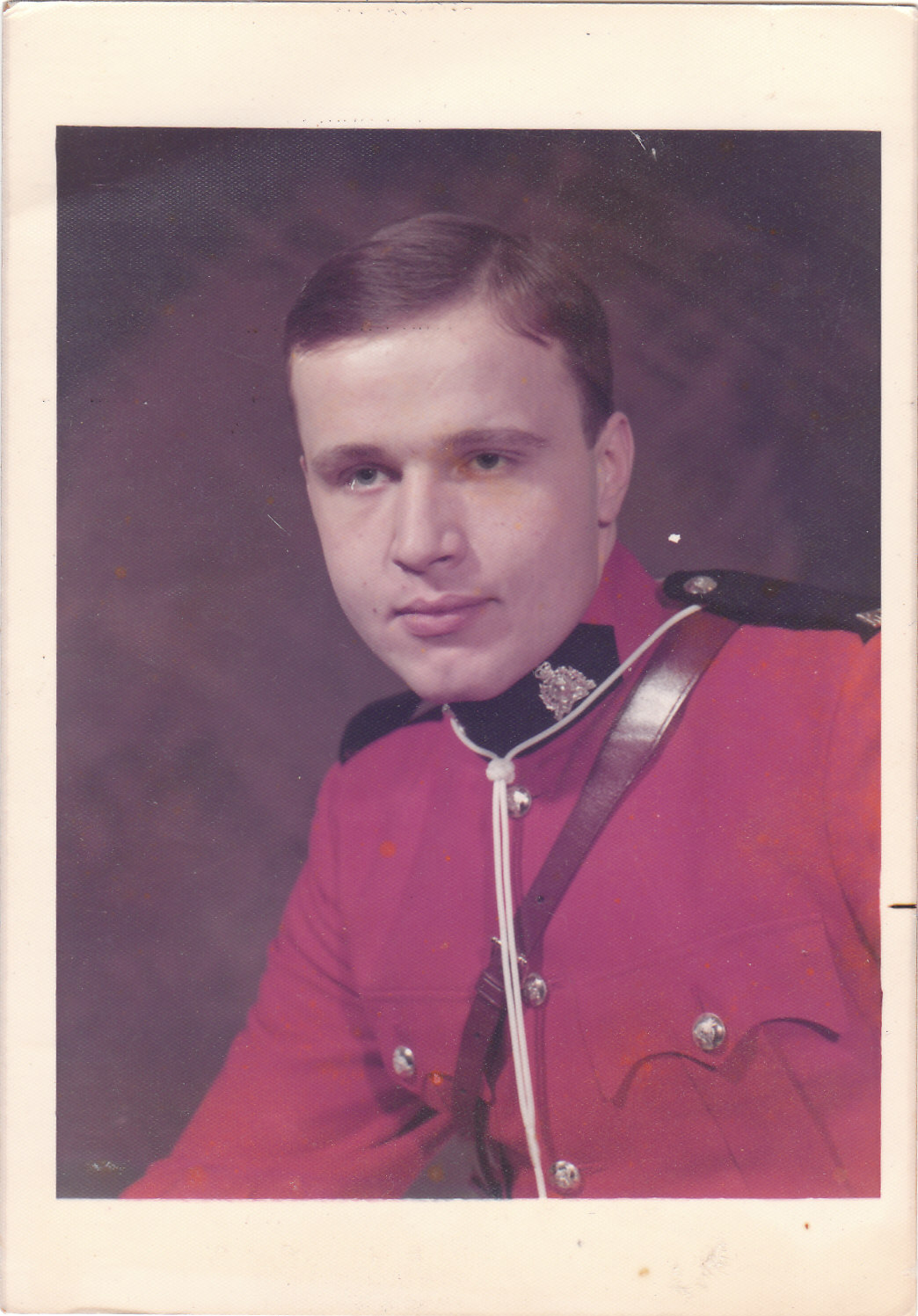 Home Town: Vancouver, B.C.
Training Division: "Depot"
Troop: TR. 11 1973/74
Regimental Number: 30678
Divisions Served: "E"
Medals & Honours: Long Service Medal with Bronze and Silver Clasps, Commanding Officer's Unit Commendation
Pillar Location: Pillar IX, Row 8, Column D
Story: 
My name is Edmund Hellmut Johannes (John) Schneider. I was born in Germany and immigrated to Canada with my parents and older brother when I was one year old in 1951.  We lived in Quebec City for a few years and when I was just beginning to learn French, my parents decided to move to Vancouver, B.C.  I was raised in Vancouver and most of my schooling was here.  When I first started school, my elementary school principal, Mr. Robb, suggested to my mother that I be named John for simplicity reasons.  Thanks to Mr. Robb, John stuck with me and certainly made my life easier.  My father was a brick and stone mason in the Vancouver region and taught my brother and I the trade.  Besides having a paper route, I always seemed to be employed on weekends and summer holidays by Schneider Masonry.  My mother was a business woman and artist and always had a lot of errands for the Schneider boys.  I graduated from Eric Hamber High School and then attended the University of British Columbia for a few years.  During the late 1960s and early 1970s, my parents rented out their basement suite at home to various RCMP members.  This is when I first met members of the Force and became good friends with them.  Their careers seemed to be exciting, interesting and stable. I applied for the Force and was eventually accepted and sworn in on July 7th, 1973.
Like most recruits going through Depot, my first few weeks in Troop 11 were quite challenging and humiliating.  I wasn't familiar with regimentation, except for the 2 years I had in boy scouts as a child.  A few of my troop mates and I arrived at Depot a few days early so we were given an assignment by the Firearms instructors.  Our job was to erect a very large tent (approx. 1200 sq ft) in the field near the firearms range building.  It was a hot summer day with strong winds blowing and gusts up to 90 kph.  The four of us were told that the tent would be needed the next day for a special firearms exhibition.  We were driven to the site in a pickup truck around noon and the large tent was contained in a canvass bag which took up the entire box of the truck.  We were told that it would likely take a few hours to erect the tent and we would be picked up around 3:00 PM.  We began to unfold the large canvass tent on the ground and sort out the poles and hardware to erect the tent.  Pegs were pounded into the ground to secure the tent and then we raised the centre pole.  The wind was powerful and blew the tent down the field. We gathered up the tent and pieces and tried again. We noticed quite a few tears in the tent, so used more pegs and tie downs before putting up the poles. As the centre pole was straightened upright, the wind ripped the tent from the tie downs and blew it down field again.  It was like a massive kite not quite airborne.  The tent was retrieved and laid out once again.  The wind seemed to be getting stronger and the rips in the tent were getting worse.  Again, we laid out the tent and tied it down.  Again, we set up the centre pole to see the wind rip the tent from the pegs and blow it over.  This process was repeated a few more times to no avail.  The tent was getting quite shredded and at 3:00 PM the firearms instructor drove to our site and said, "Okay boys, pack it up, we're going back to the barracks!" We folded up the tattered tent the best we could and placed it inside the canvass carrying bag.  The firearms instructor didn't say a word as we drove back to our barracks.  I often think that this was likely a trick played on us by the instructors.  It would have been quite funny to watch us from the firearms range trying to raise what seemed to be a circus tent in a storm.  This assignment certainly prepared us to face the other challenges and assignments that Depot had in store for Troop 11.
In January 1974, Troop 11 graduated from Depot and my first posting was Colwood Detachment, Vancouver Island, E Division. I completed my Recruit Field Training and carried out general duties work at the Colwood Detachment. Colwood was a community close to Victoria with about 30 members posted at the detachment. In October 1974, I was transferred to Port Alice Detachment on Vancouver Island. This was a small logging community with a pulp & paper mill. Three members were posted at this detachment and my responsibilities in the community was general duties. In May 1975, I was transferred to Tofino which was a small fishing and logging community on the west coast of Vancouver Island. During this time, the RCMP had three members to police the town and local First Nations communities. It was a beautiful coastal region with long sandy beaches and pounding surf. While stationed in Tofino, I learned how to scuba dive and surf. In October 1976, I was transferred to Campbell River on the east coast of Vancouver Island. This was my favourite posting as I met and married my wife, Bonnie, who gave birth to our two daughters, Jamie and Joelle. Campbell River was quite a robust town at this time. Fishing, logging, the pulp & paper mill and lumber mills were at full swing. The Campbell River Detachment had about 50 members to police a rural, marine and municipal area. I worked in general duties, serious crimes and drug enforcement units while serving at this detachment.
In September 1983, my family and I were transferred to Richmond Detachment which is located beside Vancouver. Richmond is one of the Big Five lower mainland detachments and during this time, Richmond Detachment had approximately 150 members. I served in Richmond for five years in general duties and serious crimes units. In May 1988, I was transferred to the Vancouver Headquarters Commercial Crime Section. After a few years investigating white collar crime, my family and I were transferred to Bonn, Germany in August, 1990. This posting was with the RCMP Foreign Services Directorate and my position was the Assistant Liaison Officer stationed at the Canadian Embassy in Bonn. At this time, Bonn was still the capital of Germany, even though East Germany and West Germany recently reunited. Our countries of responsibility included Germany, Poland and the Czech Republic. As Liaison Officers, our primary duties consisted of assisting Canadian police investigators and justice departments acquire evidence from the host countries for prosecutions in Canada. These international investigations included cases involved in illegal narcotic importations, commercial crimes, human trafficking, terrorism, customs and immigration violations and Nazi war crimes. In July 1994, my family and I were transferred to Prince Rupert, B.C. My position here was the NCO i/c of the Prince Rupert Sub/Division Drug Section. This drug enforcement unit consisted of six members and covered a large geographical area in the northwest corner of B.C. In April 1996, my family and I accepted a transfer to the Air India Task Force which was based at the E Division HQ in Vancouver, B.C. This task force was created to reinvestigate and bring to justice those responsible for the terrorist bombing of the Air India Flight 182 aircraft near Ireland and the bombing at Narita, Japan airport on June 23, 1985. These two separate bombings was a terrorist conspiracy orchestrated in the Vancouver, B.C. region. My duties in this unit were investigator and Task Force Commander. I retired in July, 2003 at the rank of S/Sgt. from the Air India Task Force. My 30 year career in the RCMP was exciting, interesting, rewarding and provided a great deal of stability for my family and me.
After retirement, I worked for the RCMP as a temporary civilian employee for several years. As a senior reviewer/analyst I reviewed cases targeting the Outlaw Motorcycle Gangs in Vancouver and a gangland multi-murder which occurred in Surrey, B.C. I assisted the investigators in these projects to create narrative timelines and Reports to Crown Counsel for charge approval and general disclosure. Since, 2015, Bonnie and I own and operate a small equine hobby farm in the Langley, B.C. area. We raise, breed and train Arabian horses for western and English riding. Bonnie is the expert equine farmer and still rides and shows her horses in the various Arabian Horse circuits. Ever since I met Bonnie in Campbell River, she has always owned a horse. She always worked hard to feed, groom and train her horses. Bonnie also worked as a municipal employee at the various RCMP Detachments where we were stationed. She worked as a matron, radio dispatcher, complaints taker, transcriber and office manager for the RCMP. We often reminisce about our various postings and the fun we had along the way. We have a lot of fond memories of friends we made and wonderful experiences we had in each posting. On November 11, 2019, my daughter, Joelle Kerridge, graduated from Depot and is presently stationed in Burnaby, B.C. I had the great honour of presenting my daughter her RCMP badge during this ceremony.
To any of the recruits who may be reading this story, my advice to you is, "Hang onto your hats and enjoy the ride!" Your time in Depot and in your career will go by quickly like a blink of the eye.