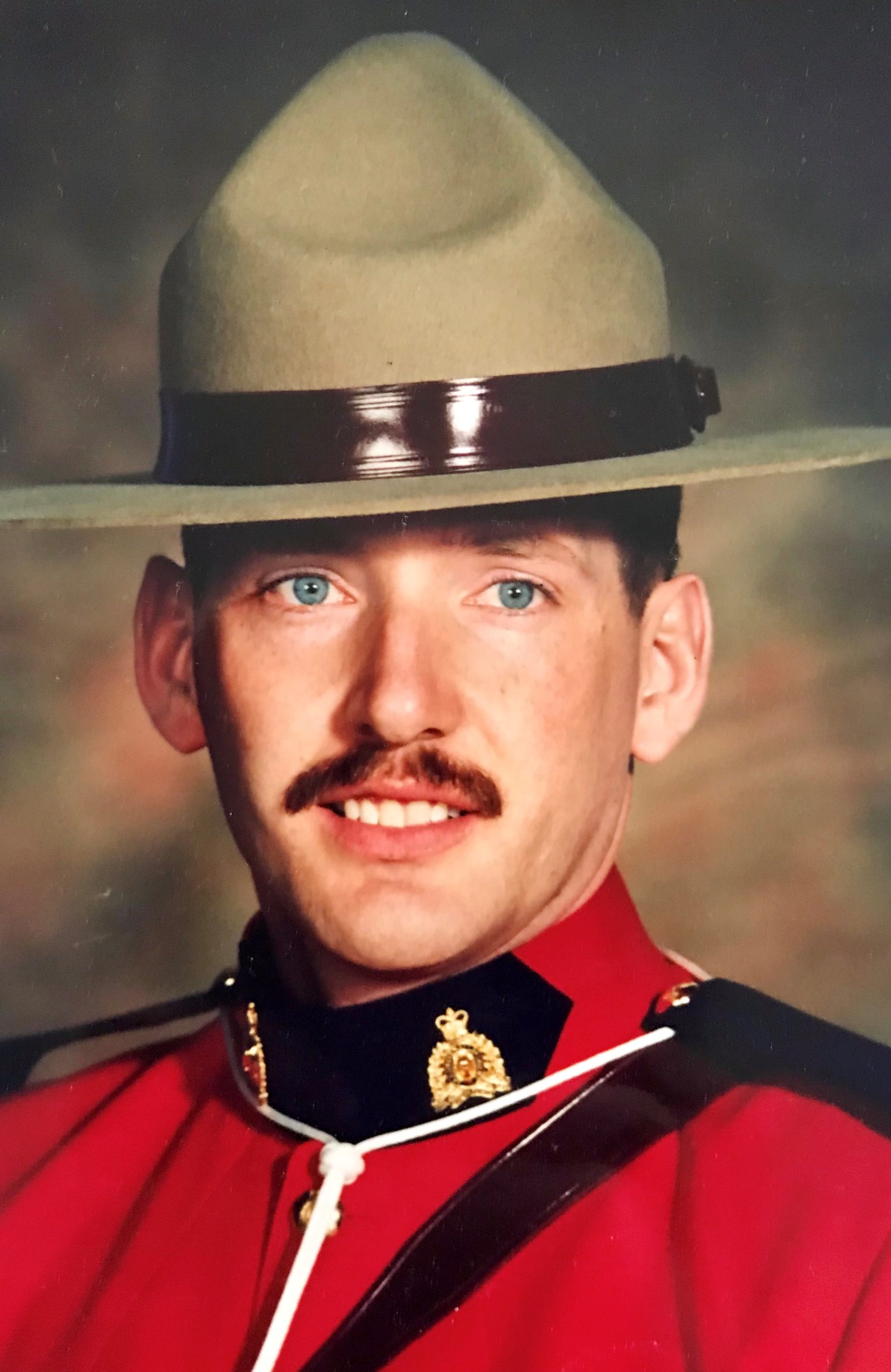 Home Town: Kipling, SK
Training Division: "D"
Troop: TR. 8 1990
Regimental Number: 42055
Divisions Served: "D," "Depot"
Medals & Honours: Long Service Medal, 125th Anniversary Confederation of Canada Medal
Pillar Location: Pillar IX, Row 4, Column D
Story: 
Growing up in the town of Kipling, Saskatchewan, my exposure to policing was that of the Royal Canadian Mounted Police. My father was friends with several of the members over the years, often accompanying them on hunting trips. One of my first personal experiences occurred on the first weekend after I received my driver's license. My high school friends and I would gather at various locations in the rural area, which was common in small, rural towns. While on the way to meet my friends, I was stopped by the RCMP. As a new driver, I was extremely nervous and wondering if I had done something wrong. I was impressed that they were professional, polite, fair, and very friendly. They informed me that they hadn't seen my vehicle before and were just checking to see who it was. This positive perception of the RCMP only grew as I was fortunate to have the local Corporal of the detachment, Mick Ryan, as my senior hockey coach. He was fun, knowledgeable about the game, and an excellent motivator. He was not just my coach; he became a mentor and friend who inspired me to consider a career with the RCMP.
I recall writing my entrance exam at the Kipling Detachment in 1981. I was successful on my exam and in my entrance interviews. I was optimistic that I would get called for training after high school graduation; however, the 1980s saw a decrease in members being trained. At the time, the RCMP was not hiring new members without a university degree or bilingual status. Therefore, I was put on a waiting list. In the meantime, I began working at the local Co-op as their petroleum manager. While keeping in regular contact with the RCMP, I held this position for two years.
In 1985, I enrolled in the University of Regina and obtained my Bachelor of Physical Activity Studies with a Major in Recreation Administration degree. After convocation in 1988, I followed up with the RCMP; however, I was still on the waitlist. I moved to Moosomin, Saskatchewan, accepting a position as a Recreation Director. After two years in Moosomin, I wanted a new challenge and accepted a position as the Facility Manager for the town of Meadow Lake, Saskatchewan. Three days into my new job I received the call I had been waiting for since 1981. It was the RCMP, asking if I was interested in French language training in Montreal which was the first step in becoming a member. I immediately said yes, and in May of 1990, I was sworn in as a member of the Royal Canadian Mounted Police and headed off to Montreal.
I joined 80 individuals selected for language training. We were billeted with local families and attended French classes in downtown Montreal for the next eight weeks. At the end of this term, applicants were given the choice to stay for the full six months of French classes or to begin training in Regina. Having waited for more than nine years, I was anxious to begin my career with the RCMP and flew back to Regina. "Depot" Division was not ready for our Troop to begin training upon our arrival. My first duties with the RCMP were spent working in the Division Mess where I prepared pans of bacon to be cooked for members in training.
The six months of training in Regina went by quickly, and in fact, only took five months! There was an urgent need to send members into the field; thus, our training was fast-tracked. This meant our training days got longer with several classes taking place in the evening. Troop 7 and Troop 8 both graduated on the same day so the Drill Hall was bursting for our banquet!
I was advised about a month before graduation that my first posting would be Gillam, Manitoba. I had never heard of this place and immediately grabbed a map and looked up, and up, and up, before discovering how far north it was! Gillam was a 14-hour drive from Regina and accessible on a less-than-perfect gravel road. I will never forget when I arrived on December 19, 1990; it was -53℃!
Gillam was an ideal detachment for training.  It was extremely easy to fit into the community which revolved around the Manitoba Hydro stations of Kettle, Long Spruce, and Limestone. The majority of residents were young and motivated which rarely caused major policing problems.
Following my Recruit Field Training in June of 1991, I traveled back to Regina to the RCMP Chapel, but this time it was to marry my long-time girlfriend Julie Mah! Together, we headed back north to Gillam to begin our lives together. We created many memories which included searching the land for our first natural Christmas tree. We found a spot and hiked to the trees, quickly discovering that the snow was waist-deep! If you ever have the opportunity to travel to northern Manitoba, you will observe that the trees are referred to as "three-sided" as all have one side that hardly grows. We decided to cut down two trees. Using my drill I made holes in the trunk of one tree and then cut branches off the other to make the tree full on all sides.
Gillam Detachment was a remote detachment with unique policing requirements. One of these requirements was policing the community of Ilford. Access to this community was available only by rail, snowmobile or via winter road. Gillam Detachment accessed this community weekly; however, we did so in our very own RCMP "Gas Car." This was basically a fiberglass box on steel wheels that we maneuvered up and down the rail tracks. All members had to train and certify as train engineers. There was only room for two people in this unit and often you would be operating on the tracks and encounter CN workers. This required finding a safe location to get off the tracks. This was accomplished by lifting the unit off the tracks using two wooden arms that extended from the gas car. I remember one occasion where we arrested an individual who was more than 300 lbs. and all three of us were crammed into the unit to head back to Gillam!
My wife Julie was a hospital pharmacist and was asked to work in various locations. Gillam Hospital had a small pharmacy where she worked on a casual basis. She also did relief work in unique locations such as Churchill, MB. She recalls never being advised to look both ways when going outside; not for cars, but for polar bears!
We had our first child, Jeffrey, in March of 1994 in Regina. After a four-year posting, we transferred to Roblin, Manitoba. Roblin was located centrally, enabling travel at any time of year. Quick trips to Kipling, Yorkton, Regina, or Winnipeg were now possible. It was nice to be closer to our families, especially with a baby.
Roblin, referred to as "The Jewel of the Parkland," was just that. Located near Lake of the Prairies, Madge Lake, Duck Mountain Provincial Park, and multiple golf courses, it provided many hours of entertainment and enjoyment. Julie also worked part-time at Mitchell's Drug Store and the Roblin Hospital.
Coming from Northern Manitoba, it was a new challenge. Roblin was a much larger policing area, a larger population, more vehicles, and a variety of different investigations to pursue. Roblin was a six-person detachment with one clerk. We developed many lasting friendships that continue to this day. We stayed in Roblin for eight years where we welcomed our second child, Jillian, in July of 1997.
Our next transfer was to Portage la Prairie, Manitoba, in 2002. I remember my first night shift in Portage, as we had 19 prisoners in cells. That would have been a month of prisoners in Roblin! Portage Detachment had 53 members. This provided a much different response to calls for service as it was not uncommon to have six police cars pull up at a scene. In Portage la Prairie, I was able to work in City Detachment, General Investigation Section, and completed my posting as the Media Liaison and Community Policing Officer. I was trained as a DARE instructor (Drug Program for youth), which led to my interest in teaching.
In the community, I was actively involved and could often be found coaching or cheering on our kids as they both played hockey, baseball, soccer, and other activities in the community.
After three years in Portage la Prairie, there were opportunities available at "Depot" Division as an instructor which was always one of my career goals. Julie was able to return to her original position as a hospital pharmacist in a large centre. We moved back home to Regina in July of 2005.
At "Depot" Division, I was promoted to the rank of Corporal and worked as a facilitator in Applied Police Sciences. I instructed a total of 13 troops which was such a rewarding experience. It was also an opportunity to meet and guide cadets from all parts of Canada towards their aspirations. After 5 years, I became the Protocol and Visits Analyst in the Communications and Events Management Services Unit at "Depot" Division. This was an amazing and unique experience. Due to superior adult teaching and training methods, the RCMP has a reputation for being one of the foremost police forces in the world. My duties included meeting representatives from international police forces to share police training methods and, in turn, to learn about their police training. I met so many incredible and wonderful police colleagues from many nations and learnt about their policing, culture, and families. This certainly was one of the highlights of my career.
In 2014, I decided to retire from the force in the fall after almost 25 years of service instead of returning to operational policing. My retirement was very short-lived as I moved across the parking lot to the RCMP Heritage Centre. I was hired in a new role with the Heritage Centre as the Manager of Guest Services. My role expanded over the next four years and in 2018, I became the Executive Director for the RCMP Heritage Centre. At the time of writing this, I continue in this role, committed to sharing the story of the Royal Canadian Mounted Police.